Last week I was searching for some $100 hamburger joints. I came across Kobelt in Wallkill NY, they have a restaurant on the field called Nu-Cavu. After some quick researching online I discovered that every Friday night during the summer they host a skydiving competition at 7:30pm. That right there is enough to get my attention so I quickly rounded up a friend to go check it out. One minor problem is that fact that I am not night current so sadly we had to drive. We also made a reservation since I read that it tends to get crowded later in the evening.
The area is pretty rural and quiet. Upon entering the parking lot I was surprised to see how many cars were there. The restaurant is very nice inside and out. We sat outside of course as close to the runway as possible. No more then 20ft away the skydivers were preparing their equipment for the jump. Whats really cool is that you get to put your name in a raffle and you can win a tandem skydive that very night. I forgot my real camera so these pictures were from my camera phone.
The company that runs the skydiving is actually from a private airport right next to Kobelt called The Ranch. As we were waiting for our order the skydiving started so we walked over right near the target and got a great close up show. The jump plane for this evening was a Cessna 208B N9339B. They had 4 passes of 4 jumpers at 5,000 and then went up to 14,000 for the tandem jump. The competition was to land in the circle as close to the center target as possible. Two jumpers did hit the target dead on. The winning jumper receives $100 and a free dinner.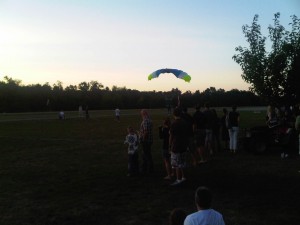 Our food arrived right after the skydiving competition. I had the Chicken Parmesan and my friend had the Chicken Saltimbocca. I am far from an official food critic but I thought it was quite good. It was definitely a huge portion, I couldn't even finish the last few bites. As we ate our food we noticed a new jump plane land and more skydivers preparing for a jump. I found out that since the night was so calm and clear they were going to do several night jumps. We decided to get a few more beers and hang out. The jumpers put on glow sticks and battery powered strobe lights to help their visibility. The night jumps were very cool because it was quite hard to see them until they were swooping over you to hit the target. One thing to note for night landings are the pilot controlled runway lights. Like so many small strips they did not seem to want to come on and even when they were they were quite dim.
Overall it thought it was a great evening and not your typical $100 hamburger joint. Our total bill with an appetizer, two entrees, and several beers was about $80. Not to bad for a nice dinner with a cool show. Check it out sometime and let me know what you think.