If there is one thing that I learned rather quickly its that losing your bearings is pretty easy up there. Even on a nice VFR day I found that most highways and ponds look alike in the densely populated areas I fly in. I have of course gotten better with my airport's surroundings but wanted something that can help me on some future flying once I get my ticket. I started my initial flight training in a 1981 Cessna 172P, this was your typical no frills school plane. It was IFR equipped but did not have GPS. Being a gadget geek I immediately started looking for a portable hand held GPS I could have in my bag, ready to go should the moment ever arise.
What I decided on was the Garmin GPSMAP 96C. It is a portable aviation GPS with enough features to get me where I need to go but also not terribly expensive. It features a 1.5″x2.2″ 256 color non-touch screen and the standard Garmin directional pad. The unit itself is powered by two AA batteries and comes with the standard cigarette style plug for the plane. It also includes a yoke mount. I found the yoke mount to be very good, however it will get in the way of newer skyhawks that have the factory clip mount on the yoke. If you have used other Garmin products then the interface will be quite familiar. It is operated by scrolling through pages of information.
Most of the pages are customizable and so is the map. I found the most useful screen is actually the heading/directional page and not the map itself. I have only used it in the plane a few times at this point because I am focusing my attention on pilotage and VOR navigation but am very happy with it. The data entry can be a bit time consuming because of the directional pad but it gets the job done.
The unit includes one free map update with purchase. It is a small coupon inside the box, I almost could not find it. There are actually two databases on the unit itself. A Jeppesen navigational map and an obstacle map. They are separate purchases and approximately $50 each for an update.
One big plus is the battery life. I have yet to change any batteries after hours of playing with it and flying, try that with the larger fancy touch screen units. It makes a perfect primary or backup unit and I would recommend it for someone looking for something simple and affordable. The MSRP is $495.00 but if you are lucky like me they pop up on eBay every once and a while.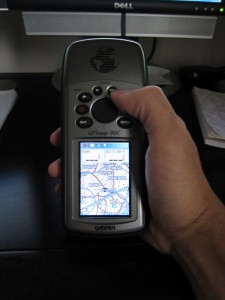 Any questions or want me to test something with this unit? Write it in the comments and I will try it out.