Helicopters have always been a bit of a mystery to me. From a young age I just gravitated towards airplanes and never gave them much thought past 'Wow that seems pretty cool'. I have always wanted to fly one but the cost was usually the limiting factor. One of the advantages to living so close to New York City turned out to be the helicopter touring business. Most, if not all of the helicopters that take people on scenic flights around Manhattan are based out of Linden airport which is just south of Newark International airport. About six months ago I came across a Groupon coupon for a 1-hour helicopter lesson. The price was basically half off the actual price for a Robinson R22 plus instructor so I just couldn't say no.
My helicopter lesson took place at Pegasus Flight. They are primarily a flight school (fixed and rotor) but they also do scenic tours. I met my instructor Rob Hirt on a beautiful sunny Sunday afternoon. Rob was already out on the ramp working on the pre-flight when I arrived. He proceeded to give me a breakdown of the controls and what to look for in a pre-flight and we were quickly off rolling the bird down the ramp to position for start up. This R22 also had the doors off for our flight which I really liked.
Rob suggested we fly up the Hudson VFR corridor and then come back for some practice maneuvers. Once I got the basic concept of the controls he started her up and taxied around for take off. Once we were airborne he quickly let me do my best to do all of controls myself. Obviously Rob was hovering on the controls and making corrections the whole time doing all of the actual flying. However he did so without being so over controlling. Some instructors have a tendency to grab the controls and not let you experiment as much but Rob was more than happy to let me get a feel for things.
The first and most obvious thing I noticed is just how sensitive everything is. The instructor said "Just think of where you want it to go and it will go" and he was not kidding. Unlike a plane you are on the controls the whole time making small corrections over and over and just a slight pressure on the cyclic will move the chopper where you want. Rob did a great job with explaining the physics and forces behind controlling the aircraft. I have always been what you could call a man of science so knowing the reasons behind the characteristics of flight helps me a lot.
Once we came back from the Hudson Rob demonstrated an auto-rotation. Then we tried the one thing I couldn't wait to do…..HOVER. To me that is the coolest part about a chopper, just being able to hang up there. Obviously Rob made things look easy and the hovering was very cool. He let me give it a try and it was by far the hardest thing to do. It was actually pretty funny because every time I could see him take his hand off the cyclic we would start oscillating fore and aft. This clearly takes a lot of practice!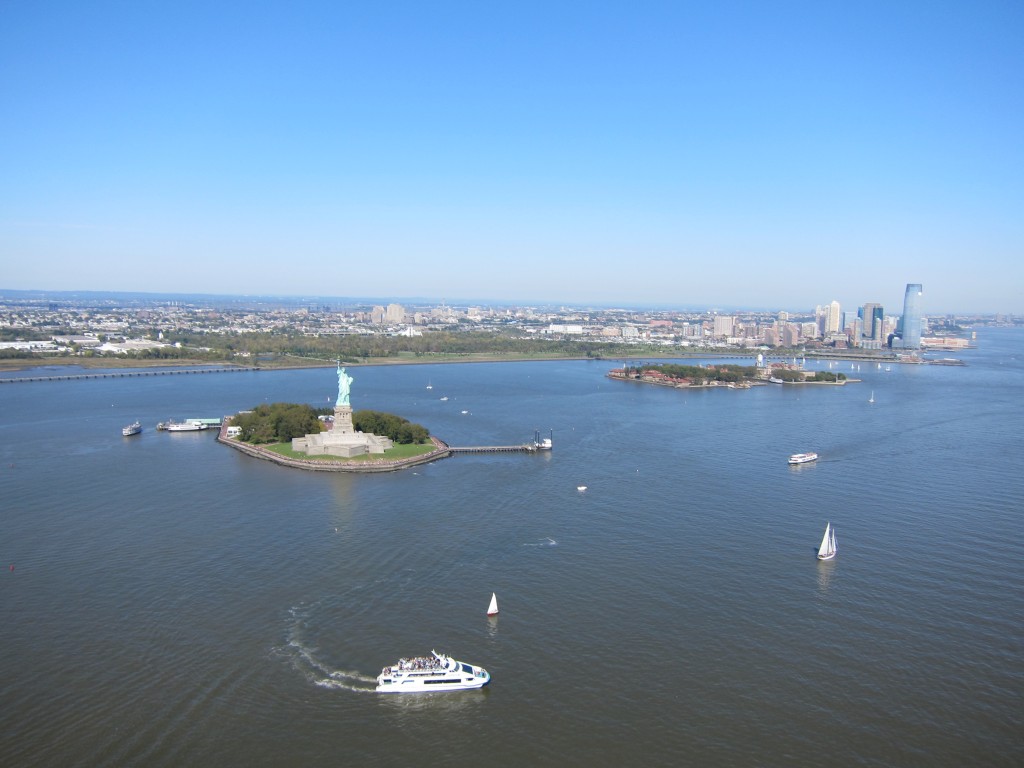 While the flying itself was of course difficult the first time I had an absolute blast. Being able to fly so slow and low with such a great panoramic view was amazing. I really didn't expect to like it so much. Having never even considered a rotor rating before I can say now that I am completely sold on beating the air into submission.
Now I just need to find a bag full of money, damn you aviation.