In what might be considered a miracle this past weekend turned out to be a perfect VFR day along most of the east coast. Usually when I book a club plane far out in advance I am grounded by maintenance or weather woes but not this time. Accompanying me for the day was my lovely girlfriend Anca. After a standard preflight and a quart of oil we were off from my home base of Morristown,NJ KMMU in one of our club planes a 1979 Cessna Skyhawk.
I decided to follow the New Jersey shoreline to have some sights to see on the way down. We were both rather surprised at just how bad everything still looks around Seaside many months since Hurricane Sandy. Even the infamous roller coaster in the water is still there.
The rest of the flight down was pretty straight forward. We were approaching KOXB after approximately 1:40hr of flight time. The airport was quite busy. I was number three approaching to land and there were several other planes waiting to take off. The airport's location is excellent being only a few miles from downtown Ocean City and about 10min from Assateague Island. You can park in any yellow tie down spot and there are even ropes to use in most of them. Once inside the terminal we spoke with Don from Express Rental car and were able to borrow a clean and pretty new minivan for a whopping $25 day. A taxi cab would have cost almost as much just to get to town one way. The rental process itself was ridiculousness simple, nothing compared to the usual big brand paperwork bull we all usually deal with. I definitely recommend getting a car from them on your visit.
Our first stop was the boardwalk. Neither of us had even been there before. I would say it reminds me of Cape May, NJ. Very nice clean place with lots of families around. Unfortunately it was still March 30th and rather cold out so we didn't get any time in the water. We did however find a kite store on the boardwalk that had the coolest collection of airplane kites. If you fancy some funky kites this was certainly the place to grab one.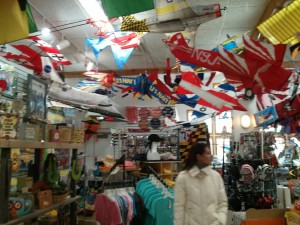 Once we were done perusing the boardwalk and enjoying the bit of sun that was out there it was time for food. We ended up heading back near the airport to a restaurant called The Shark on the Harbor. Anca happens to be quite a big fan of seafood as evidenced by her grin the photo below. It was situated right on the harbor where you can see fishing boats unloading their catches. The food was great and we both recommend checking it out some time.
The last stop of the day was Assateague Island. Located approx 10min south of the airport it's most notable aspect is the wild horses. No one knows the exact story of how the horses got there but they have been living isolated on the island for decades. It is actually one of the few places left in the U.S. with wild horses. You can even camp right on the beach with them. We didn't have much time left to hang out but we did see a few horses while driving through.
We left the island and were back at the airport in a few minutes. I decided to top off the plane's tanks before leaving at the airport's self service fuel station. After fueling we taxied over and were off again back home. The flight home was thankfully uneventful. Earlier puffy clouds gave way to a fairly clear sky with just a bit of haze on the horizon. I climbed up to 5,500ft and flew a straight line back to Morristown. All in all it was about 3.5hrs on the hobbs and a great time. I definitely recommend it as a day or weekend trip.